www.independent.co.uk › News › World › Africa
Sep 15, 2016 -

Britain's intervention in Libya and the chaos and bloodshed that ... Collapse of country after Gadaffi's removal triggered war in Mali and strengthened militant groups .... Jihadist groups were pushed back by a French-led intervention in ... operating and funding a network of groups launching terror attacks and ...
How David Cameron's intervention in Libya is fuelling war and terror around the world
Collapse of country after Gadaffi's removal triggered war in Mali and strengthened militant groups
Click to follow
The Independent Online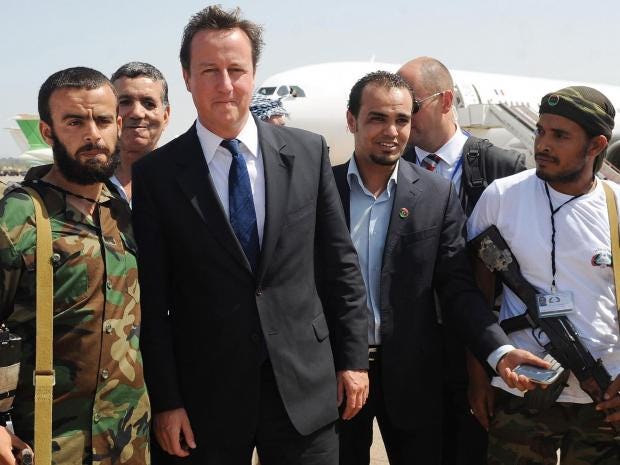 Bloody competition for territory spawned a second civil war that continues, leaving a state of lawlessness in parts of Libya allowing the smuggling of militants, weapons and refugees sent across the Mediterranean Sea.
But analysts say the consequences of the power vacuum left by Nato's intervention has stretched far beyond Libya's borders.
Libyan weapons have been found in more than 20 countries, while its conflict has fueled war, insurgencies and terrorism in at least 10 other nations.
Perhaps the most direct outcome was the conflict in northern Mali, where the United Nations is currently operating the deadliest peacekeeping operation in the world.
Paul Melly, an associate fellow in the Africa department at Chatham House, described how members of the Tuareg ethnic group serving in Gaddafi's army fled Libya after his downfall with "huge volumes" of weapons they then used to start a separatist insurgency in Mali.
The Tuareg MNLA's campaign prompted a coup d'état as the rebels overran northern parts of the country, later being ousted by al-Qaeda backed Islamist groups that enforced Sharia law in their territory.
Jihadist groups were pushed back by a French-led intervention in 2013 but continue to launch assaults and terror attacks, while fighting the Tuareg separatists they once supported.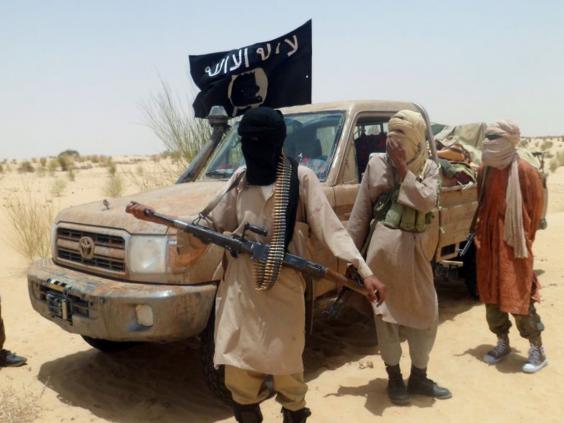 "Although intervention by French and African forces ended the jihadist control of the north, the region remains highly unstable, despite the presence of more than 10,000 UN peacekeepers," Mr Melly said.
"The disintegration of a stable state in Libya has created a vast mostly ungoverned space in the south of the country where jihadist groups are able to rest and resource themselves largely untroubled by external interference."
Marty Reardon, Senior Vice President of US-based security consultancy The Soufan Group, said a "spill-over" effect quickly spread throughout the region.
He told The Independent Libya's collapse contributed to the rise of "well-armed criminal and militant groups" in Tunisia, Algeria, Niger, Chad, Sudan and Egypt.
Several terror attacks in Tunisia have originated in Libya, Mr Reardon said, while militants who crossed the border to fight in the civil war "will eventually find their way home [to Tunisia] more radicalised and better trained than when they went."
"Continued fighting in Libya created safe havens for fighters and seemingly unending supplies of weapons for Islamist movements in neighbouring countries and the region at large," he added.
Al-Qaeda in the Islamic Maghreb (AQIM)
is the largest group in the region, operating and funding a network of groups launching terror attacks and fighting insurgencies in nations including Mali, Algeria, Mauritania, Niger, Tunisia and Morocco.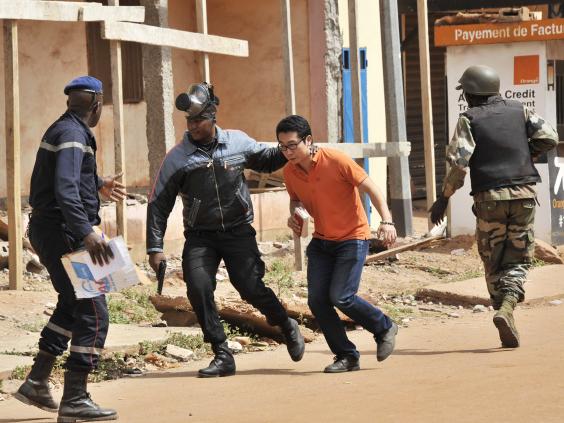 Katherine Zimmerman, a research fellow at the American Enterprise Institute (AEI), said al-Qaeda had "benefited significantly" from the destabilisation of Libya.
"AQIM still runs training camps in southwest Libya and the group uses its sanctuaries inside the country to support efforts elsewhere in the Maghreb and Sahel region," she said.
Some of al-Qaeda's training camps are also believed to be supplying foreign fighters to allies in Syria, including the group formerly known as Jabhat al-Nusra.
Another beneficiary of the chaos has been Isis, which has established a vital outpost from its Iraqi and Syrian strongholds in Libya.
While it is currently battling to hold the city of Sirte, Isis' territories along the Mediterranean have allowed the group access to ports, large stores of weapons and established trans-Saharan smuggling routes, as well as a fertile recruiting ground for foreign fighters.
Emily Estelle, an analyst at the AEI's Critical Threats Project, said a "Tunisia-focused" Isis cell operating out of Libya has been linked to the
attacks on the Bardo Museum
in Tunis and in
Sousse
, where 38 people including 30 British tourists were massacred in June last year.
"Isis may have also used Libya as an alternate jumping-off point to Europe," she added. "Isis in Sirte may have links to a cell in Milan, for example."
Dr Amir Kamel, a lecturer in the Defence Studies Department at King's College London, said the Libyan conflict has allowed the so-called Islamic State to extend its colonial ambitions beyond the Middle East.
"Daesh [Isis] has been able to regroup, garnish support and continue to spread its message and violent acts in the Middle East, Europe and beyond," he told
The Independent.
"The removal of Gaddafi created an environment where any actor could benefit."
Dr Kamel said the end of the Brotherly Leader's oppressive management of tribal, regional and ethnic divisions in Libya sparked a "violent reaction" between a myriad of competing factions.
The Foreign Affairs Committee report came to a similar conclusion, saying the rise of militant extremist groups "should not have been the preserve of hindsight" for Britain and its allies.
But Elham Saudi, an associate fellow at Chatham House's International Law Programme and Director of Lawyers for Justice in Libya, said attributing the rise of Isis solely to the overthrow of Gaddafi would be an oversimplification.
"The bigger issue here is the void of the rule of law and the culture of the impunity prevalent in Libya," he told
The Independent.
"There are 150 militias reportedly operating in Tripoli alone. The political links that some of these militias have, and even governmental endorsement in some instances, only serves to undermine the rule of law further."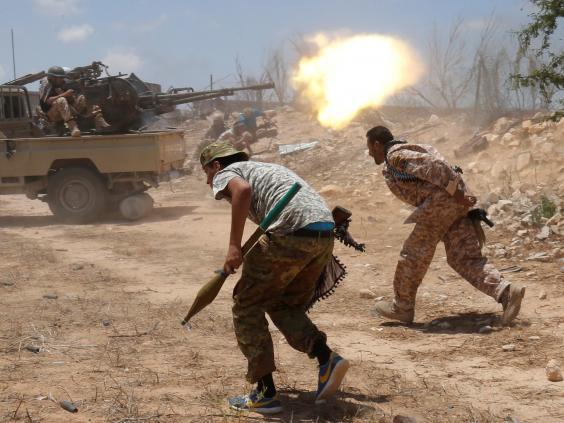 Libyan-purchased weapons have been found in more than 20 countries in the Middle East and Africa and the United Nations Security Council will soon consider a resolution to lift an arms embargo on sales to the fragile Government of National Accord.
The union was formed in December last year but its constituent groups, the elected Council of Deputies and Islamist-backed General National Congress, are still backed by rival armed groups controlling swathes of the country.
With thousands killed, 425,000 Libyans displaced and 1 million fleeing the country, the instability and its ramifications look set to continue.
Mr Melly suggested that catastrophic policy failures may be partly attributable to Western governments' perception of Libya as an "Arab country" without proper consideration of its relationship with surrounding African nations.
"One has the impression that its crisis was viewed through the prism of policy towards the Middle East and the Arab Spring," he added
.
"As a result, policymakers in London, Paris and Washington perhaps paid less attention to the potential fallout for countries in Sub-Saharan Africa."
Crispin Blunt, chair of the Foreign Affairs Committee, said the UK's 2011 intervention was based on "erroneous assumptions and an incomplete understanding of the country".
"Having led the intervention with France, we had a responsibility to support Libyan economic and political reconstruction," he added.
"But our lack of understanding of the institutional capacity of the country stymied Libya's progress in establishing security on the ground and absorbing financial and other resources from the international community.
"The UK's actions in Libya were part of an ill-conceived intervention, the results of which are still playing out today."
https://www.theguardian.com › Opinion › Mali
Jan 14, 2013 - As French war planes bomb Mali, there is one simple statistic that provides ... still plaguing Libya as well as enduring anger over the Benghazi attack, ... again at war with the very forces that it trained, funded and armed. ... provoke even more anti-western sentiment, the fuel of terrorism. .... USA · europe · UK.
Jan 21, 2013 - Will history look kindly on the French intervention in Mali? ... that had already conquered the north of the country were likely to take over the ... France (and Britain for that matter) acted out of political self-interest in Libya, and the ... And once they had triumphed over Gaddafi, the Libyan rebels were equally ...
truepundit.com/hillary-clinton-supplied-cash-weapons-tanks-training-to-al-qaeda-to-k...
Oct 16, 2016 - Clinton struck a deal with known senior military officials in Al-Qaeda to ... details a list of U.S.-commissioned weapons supplied to Libyan "rebels. ... by the Gaddafi regime, Britain, France and Egypt acted with the U.S. to train and .... commission Al-Qaeda to remove Gaddafi and move weapons at the same ...
in helping Libya manage a very difficult transition from war to peace. The work was begun in .... al Qaeda–linked groups recently chased from Mali by French military forces. .... 2012 RAND workshop, including from the UK Foreign Office, Euro- ..... other small arms.4 Qatar and France both also supplied the rebels with Milan ...
Jan 6, 2016 - Libyan leader Muammar al-Gaddafi, who was murdered by ... inside Libya from nearly the start of protests, Al Qaeda embedded in the U.S. ... Blumenthal relates that "an extremely sensitive source" confirmed that British, French, and ... of weapons and supplies to the rebels" including "a seemingly endless ...
Aug 3, 2016 - Blumental likewise details that French, British and Egyptian Special ... He fails to mention, or perhaps even realize however, that Al-Qaeda had already done just that. ... When Clinton traveled to France to meet the Libyan rebels at a ... to commission Al-Qaeda to remove Gaddafi and move weapons at the ...
Feb 1, 2015 - Secret Benghazi report reveals Hillary's Libya war push armed al Qaeda-tied terrorists .... to remove Moammar Gadhafi from power, that weapons were being funneled ... Qatar has steadfastly and repeatedly denied arming the rebels. ... But now, we have, and plus the French and British have also have their ...
www.nytimes.com/.../weapons-sent-to-libyan-rebels-with-us-approval-fell-into-islamis...
Dec 5, 2012 - He said that Qatar would not have gone through with the arms ... Some of the arms since have been moved from Libya to militants with ties to Al Qaeda in ... weapons that the United States had supplied for the emirates' use.
U.S.-Approved Arms for Libya Rebels Fell Into Jihadis' Hands
WASHINGTON — The Obama administration secretly gave its blessing to arms shipments to Libyan rebels from
Qatar
last year, but American officials later grew alarmed as evidence grew that Qatar was turning some of the weapons over to Islamic militants, according to United States officials and foreign diplomats.
No evidence has emerged linking the weapons provided by the Qataris during the uprising against Col. Muammar el-Qaddafi to the attack that killed four Americans at the United States diplomatic compound in Benghazi,
Libya
, in September.
But in the months before, the Obama administration clearly was worried about the consequences of its hidden hand in helping arm Libyan militants, concerns that have not previously been reported. The weapons and money from Qatar strengthened militant groups in Libya, allowing them to become a destabilizing force since the fall of the Qaddafi government.
The experience in Libya has taken on new urgency as the administration considers whether to play a direct role in arming rebels in
Syria
, where weapons are flowing in from Qatar and other countries.
Continue reading the main story
The Obama administration did not initially raise objections when Qatar began shipping arms to opposition groups in Syria, even if it did not offer encouragement, according to current and former administration officials. But they said the United States has growing concerns that, just as in Libya, the Qataris are equipping some of the wrong militants.
The United States, which had only small numbers of C.I.A. officers in Libya during the tumult of the rebellion, provided little oversight of the arms shipments. Within weeks of endorsing Qatar's plan to send weapons there in spring 2011, the White House began receiving reports that they were going to Islamic militant groups. They were "more antidemocratic, more hard-line, closer to an extreme version of Islam" than the main rebel alliance in Libya, said a former Defense Department official.
The Qatari assistance to fighters viewed as hostile by the United States demonstrates the Obama administration's continuing struggles in dealing with the Arab Spring uprisings, as it tries to support popular protest movements while avoiding American military entanglements. Relying on surrogates allows the United States to keep its fingerprints off operations, but also means they may play out in ways that conflict with American interests.
"To do this right, you have to have on-the-ground intelligence and you have to have experience," said Vali Nasr, a former State Department adviser who is now dean of the
Paul H. Nitze School of Advanced International Studies
, part of Johns Hopkins University. "If you rely on a country that doesn't have those things, you are really flying blind. When you have an intermediary, you are going to lose control."
He said that Qatar would not have gone through with the arms shipments if the United States had resisted them, but other current and former administration officials said Washington had little leverage at times over Qatari officials. "They march to their own drummer," said a former senior State Department official. The White House and State Department declined to comment.
During the frantic early months of the Libyan rebellion, various players motivated by politics or profit — including an American arms dealer who proposed weapons transfers in an e-mail exchange with a United States emissary later killed in Benghazi — sought to aid those trying to oust Colonel Qaddafi.
But after the White House decided to encourage Qatar — and on a smaller scale, the United Arab Emirates — to ship arms to the Libyans,
President Obama
complained in April 2011 to the emir of Qatar that his country was not coordinating its actions in Libya with the United States, the American officials said. "The president made the point to the emir that we needed transparency about what Qatar was doing in Libya," said a former senior administration official who had been briefed on the matter.
About that same time, Mahmoud Jibril, then the prime minister of the Libyan transitional government, expressed frustration to administration officials that the United States was allowing Qatar to arm extremist groups opposed to the new leadership, according to several American officials. They, like nearly a dozen current and former White House, diplomatic, intelligence, military and foreign officials, would speak only on the condition of anonymity for this article.
The administration has never determined where all of the weapons, paid for by Qatar and the United Arab Emirates, went inside Libya, officials said. Qatar is believed to have shipped by air and sea small arms, including machine guns, automatic rifles, and ammunition, for which it has demanded reimbursement from Libya's new government. Some of the arms since have been moved from Libya to militants with ties to Al Qaeda in Mali, where radical jihadi factions have imposed
Shariah law
in the northern part of the country, the former Defense Department official said. Others have gone to Syria, according to several American and foreign officials and arms traders.
Although NATO provided air support that proved critical for the Libyan rebels, the Obama administration wanted to avoid getting immersed in a ground war, which officials feared could lead the United States into another quagmire in the Middle East.
As a result, the White House largely relied on Qatar and the United Arab Emirates, two small Persian Gulf states and frequent allies of the United States. Qatar, a tiny nation whose natural gas reserves have made it enormously wealthy, for years has tried to expand its influence in the Arab world. Since 2011, with dictatorships in the Middle East and North Africa coming under siege, Qatar has given arms and money to various opposition and militant groups, chiefly Sunni Islamists, in hopes of cementing alliances with the new governments. Officials from Qatar and the emirates would not comment.
After discussions among members of the National Security Council, the Obama administration backed the arms shipments from both countries, according to two former administration officials briefed on the talks.
American officials say that the United Arab Emirates first approached the Obama administration during the early months of the Libyan uprising, asking for permission to ship American-built weapons that the United States had supplied for the emirates' use. The administration rejected that request, but instead urged the emirates to ship weapons to Libya that could not be traced to the United States.
"The U.A.E. was asking for clearance to send U.S. weapons," said one former official. "We told them it's O.K. to ship other weapons."
For its part, Qatar supplied weapons made outside the United States, including French- and Russian-designed arms, according to people familiar with the shipments.
But the American support for the arms shipments from Qatar and the emirates could not be completely hidden. NATO air and sea forces around Libya had to be alerted not to interdict the cargo planes and freighters transporting the arms into Libya from Qatar and the emirates, American officials said.
Concerns in Washington soon rose about the groups Qatar was supporting, officials said. A debate over what to do about the weapons shipments dominated at least one meeting of the so-called Deputies Committee, the interagency panel consisting of the second-highest ranking officials in major agencies involved in national security. "There was a lot of concern that the Qatar weapons were going to Islamist groups," one official recalled.
The Qataris provided weapons, money and training to various rebel groups in Libya. One militia that received aid was controlled by Adel Hakim Belhaj, then leader of the Libyan Islamic Fighting Group, who was held by the C.I.A. in 2004 and is now considered a moderate politician in Libya. It is unclear which other militants received the aid.
"Nobody knew exactly who they were," said the former defense official. The Qataris, the official added, are "supposedly good allies, but the Islamists they support are not in our interest."
No evidence has surfaced that any weapons went to Ansar al-Shariah, an extremist group blamed for the Benghazi attack.
The case of Marc Turi, the American arms merchant who had sought to provide weapons to Libya, demonstrates other challenges the United States faced in dealing with Libya. A dealer who lives in both Arizona and Abu Dhabi in the United Arab Emirates, Mr. Turi sells small arms to buyers in the Middle East and Africa, relying primarily on suppliers of Russian-designed weapons in Eastern Europe.
In March 2011, just as the Libyan civil war was intensifying, Mr. Turi realized that Libya could be a lucrative new market, and applied to the State Department for a license to provide weapons to the rebels there, according to e-mails and other documents he has provided. (American citizens are required to obtain United States approval for any international arms sales.)
He also e-mailed J. Christopher Stevens, then the special representative to the Libyan rebel alliance. The diplomat said he would "share" Mr. Turi's proposal with colleagues in Washington, according to e-mails provided by Mr. Turi. Mr. Stevens, who became the United States ambassador to Libya, was one of the four Americans killed in the Benghazi attack on Sept. 11.
Mr. Turi's application for a license was rejected in late March 2011. Undeterred, he applied again, this time stating only that he planned to ship arms worth more than $200 million to Qatar. In May 2011, his application was approved. Mr. Turi, in an interview, said that his intent was to get weapons to Qatar and that what "the U.S. government and Qatar allowed from there was between them."
Two months later, though, his home near Phoenix was raided by agents from the Department of Homeland Security. Administration officials say he remains under investigation in connection with his arms dealings. The Justice Department would not comment.
Mr. Turi said he believed that United States officials had shut down his proposed arms pipeline because he was getting in the way of the Obama administration's dealings with Qatar. The Qataris, he complained, imposed no controls on who got the weapons. "They just handed them out like candy," he said.