Irish Times

-

‎3 hours ago‎
More World stories
Steve Bannon was not smart enough to play dumb
Trump strategist signed his own death warrant with a series of stupid mistakes
Trump strategist Stephen Bannon is seen in the White House's Rose Garden, in Washington, DC. Photograph: Mandel Ngan/AFP/Getty Images
He'd crossed the line that a politician's advisers mustn't, to a place and prominence where only the most foolish of them tread. Or, at best, he'd failed to prevent the media from tugging him there.
That means there's a puppet in the equation, and no politician is going to accept that designation, least of all one who stamps his name in gold on anything that stands still long enough to be stamped.
Or whose debate performances included the repartee: "No puppet, no puppet. You're the puppet."
"I'm my own strategist," the president told the New York Post early last week.
The message to Bannon couldn't have been louder and clearer if it included a four-letter word.
Trump had been a guest on the radio show that Bannon used to host nine times. But the president's rewrite of history was telling.
Bannon needed to be erased because he was taking up too much space on the page.
Politics is a tricky business, Washington is a treacherous place and Trumplandia is downright brutal.
In all three realms, you have to strike the right balance of self-promotion and self-effacement.
The media's no help: we love few archetypes better than that of the brilliant mastermind who's the real power behind the throne.
But the savviest operators find ways to resist that assignment, deflecting as much credit as they claim.
"And depending on who the star is, it's even more important. Donald Trump's self-image doesn't really allow for co-stars."
'Bush's brains'
George W Bush's self-image had slightly more allowance, but even so, nothing made Karl Rove's stomach knot like the nickname – "Bush's brain" – that a few journalists used for him. It was both compliment and curse.
To interview him or any of Bush's other top aides back in the day was to be pummelled with sentences that all started with the same subject, adjusted for whichever title Bush held at that point.
"The governor believes"; "The president-elect has decided", "The president feels strongly".
Ask them for their opinion and they'd tell you what he thought.
That was the pecking order, which was reinforced by Bush's own nickname for Rove: "Turd Blossom."
Rove endured as one of Bush's two or three pre-eminent advisers for about a decade, and his eventual diminution was largely a function of Bush's waning popularity in the fifth year of his presidency, when Rove was moved from a corner suite in the West Wing to a windowless office across the hall.
That behaviour reflected the ease with which senior advisers "get caught up in feeling smarter and more powerful than the principal", said one veteran Republican strategist, who added that the advisers who survive reject or mask that grandiose sense of self.
Bannon is an amateur masker. While he didn't give Time any quotes for its "manipulator" story and the photograph of him on the cover had been shot for a different reason three months earlier, he has spent plenty of time talking off the record with political reporters, little of it actively tamping down his legend.
He wasn't vigilant enough about patrolling the way his allies inside and outside the administration deified him in their own murmurings to the media, which included the nugget that colleagues awed by his knowledge called him "the encyclopedia".
He didn't see the traps that would have been obvious to a Washington insider.
He didn't grasp that you can't be "the encyclopedia" if your president is barely a pamphlet.
His compass is popularity, not any fixed philosophy, and certainly not the divisive brand of populism and nationalism that Bannon was trying to enforce.
Ideology
Bannon insisted on an ideology when Trump cares more about applause, and what generates cheers at a campaign rally isn't what sustains them when you're actually governing.
Consider Trump's obsession with appearances, then tell me who has the advantage: the guy who looks like a flea market made flesh, or the one who seems poised to pose for GQ?
Bannon is still on the job, and Trump may keep him there, because while the strategist has been disruptive inside the White House, he could be pure nitroglycerin outside.
But it's hard to imagine how he ever again rises to a perch as lofty as the one he occupied; others have rushed to fill it.
And "Trump's got a new favourite Steve", according to a headline in Politico on Thursday.
Today's Steve appreciates where yesterday's went wrong. He understands that if you want to play Svengali, you have to pass yourself off as a sycophant.
That was a performance beyond Bannon's ken. He never had a chance.
comment:-
fascist/nazi type bannon is side lined by
Cohn and
Kushner
==============================
==============================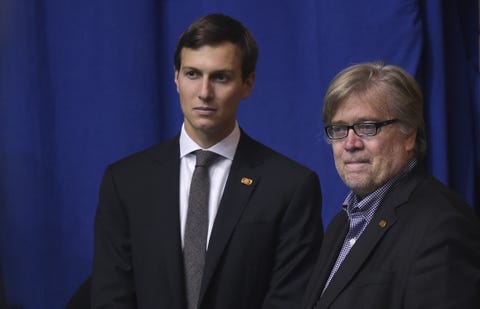 ."
Mar 29, 2017 -

18 Things You Need to Know About Donald Trump's Son-in-Law. Ivanka Trump's husband wields extraordinary influence in the Trump sphere. ... Jared Kushner, President Donald Trump's 36-year-old son-in-law, is now serving as a senior adviser in the Trump administration
Apr 26, 2011 -

In the spirit of information sharing, we've compiled a list of some of the biggest lobbies in America, and the way they've affected politics.
10 of the Biggest Lobbies in Washington
Despite numerous criticisms, lobbying in the US is protected under the First Amendment, which enshrined the right to petition the government. Recently, though, legislation was passed that forced lobbying organizations to be more transparent in their deals. Websites like the
Center For Responsive Politics
now track spending by industry, company, and individual groups. In the spirit of information sharing, we've compiled a list of some of the biggest lobbies in America, and the way they've affected politics.
The Tech Lobby
$120 million in 2010
. With the power of tech giants Google, Apple, Amazon, and Microsoft behind it, the computer and Internet lobby has a lot of weight to throw around. By weight, we mean money: In 2010, Microsoft alone spent over $6.9 million in federal lobbying efforts.
The tech lobby's priorities include trying to
lower corporate tax rates
and pass cybersecurity
legislation
. In the last few years, tech industry heavy-hitters and activists have found themselves at odds with communication companies and governing bodies like the FCC over the issue of
Net Neutrality
. In the summer of 2010, Google brokered a
deal
with Verizon that seemed an abrupt about-face from its
former stance
. Meanwhile, the House has
gridlocked
a bill by the FCC that would regulate ISPs and give them authority to step into disputes; more evidence of the tech lobby, hard at work.
The Mining Industry
labor uprisings
in history. More recently, it's been trying to sell politicians and tax payers on the idea of
"clean coal"
, which supposedly reduces carbon emissions and other pollutants. Environmental advocacy groups are
skeptical
, to say the least, but mining lobbyists have spent nearly
$100 million dollars
in the last three years, ensuring that they have lawmakers' ears. In addition, the mining lobby has attempted to sway lawmakers in regulating labor laws, worker safety, and environmental regulations.
The Defense Industry
The heaviest hitters in the
industry
are Lockheed Martin, Boeing, and General Dynamics. Lockheed Martin alone
received
7% of the funds that were paid out by the Pentagon, and has additional multi-million dollar contracts with the IRS, NSA, TSA, CIFA, FBI, the US Census, and the postal service.
Political analysts are
predicting
the end of growth in military spending, however. After nearly 10 years of involvement in Iraq and Afghanistan, and with worries over national and state budget deficits, Americans are war-weary and beginning to turn against the Iron Triangle of contractors, lawmakers, and lobbyists. The next few years will test whether the defense industry is as recession-proof as previously believed.
The Agribusiness Industry
$150 million
each year, funding campaigns and pushing legislation through Congress.
Agribusiness lobbyists are responsible for holding up bills regulating
food labeling
, climate change, and
biofuel production
. In the last 10 years, they've pushed through legislation that undid much of the Clinton-era environmental efforts, powering down the EPA and
amending bills
such as the Clean Water Act to allow for greater industrial pollution.
Big Oil
deep ties
to different oil companies: Vice-President Cheney was the chief executive of Halliburton, Condoleeza Rice was a director of Chevron. In addition, Big Oil spends more on lobbying than any other group: nearly
$150 million
in 2010.
After the disastrous BP oil spill last spring, oil and gas lobbying came into sharp focus in the American media, especially as BP stepped up
efforts to remake its tarnished image
. Recently, the oil industry has been
unveiled
as a major funder of the Tea Party, which advocates less governmental intervention and regulation, and generally denies climate change; all of which suits the oil industry quite well.
The Financial Lobby
hundreds of millions of dollars
to campaigns and political parties.
Goldman Sachs
alone donated over $2.6 million to various politicians and governing bodies. In return, financial institutions have been allowed free reign with other people's money; they were responsible for the real estate bubble and the sub-prime mortgage of 2008, which contributed to the Great Recession. A senate committee on the financial crisis of the late 2000's
found
that, "The crisis was not a natural disaster, but the result of high risk, complex financial products; undisclosed conflicts of interest; and the failure of regulators, the credit rating agencies, and the market itself to rein in the excesses of Wall Street."
Since the market crash, banking lobbyists helped push through the
financial bailout
in 2008, but have spent the last three years digging their heels in against any push towards
reforms
.
Big Pharma
Pfizer Inc
, one of the major political contributors of the pharmaceutical industry, spent more than $25 million dollars in 2009, ensuring that the Obama administration's health care reforms didn't rock the boat overmuch. As it stands, drug companies stand to gain a huge increase in their already bloated profits after the new healthcare reforms go through; prescription
drug prices
are set to remain steady, despite already being the highest in the world, but an estimated
32 million Americans
are going to be newly insured.
The AARP
mission statement
, it is "dedicated to enhancing quality of life for all as we age, leading positive social change, and delivering value to members through information, advocacy, and service." The AARP offers a range of services, products, and special offers to its 38 million members. It is also one of the largest lobbying groups in Washington. In 2010, AARP spent
$22 million
on lobbying, with most of its efforts going into health care and Medicare reform, Social Security, and legislation regarding retirement and age discrimination.
AARP has recently come
under fire
for supporting Obama's health care reform initiatives in 2009 and 2010. It has also raised eyebrows for being an incredibly profitable company. In addition to member dues and donations, AARP earns extra revenue by sponsoring private insurance policies.
The Pro-Israel Lobby
called
the NRA of foreign policy lobbies, "a hard-edged, pugnacious bunch that took names and kept score". The almost-unilateral popular support of Israel in America, not to mention the nearly $3 billion in aid the country receives every year, did not come about by accident. It's the result of over 50 years of hard lobbying. Politicians and pundits alike are quick to support the Jewish state, and reluctant to criticize it. Pro-Israel groups such as AIPAC spent close
$4 million
last year, ensuring that US-Israel ties will remain strong. The Pro-Israel lobby remains one of the strongest and most influential foreign-policy lobbies in the US.
The NRA
$7.2 million
during the 2010 elections on so-called private expenditures, messages that advocated or opposed certain political candidates. They even got
Chuck Norris
to star in an ad for their "Trigger The Vote" campaign, imploring potential voters to register.
Much of the NRA's power, however, seems to lie less in its spending and more in its ability to mobilize its members, who are 4 million strong and well-versed in grassroots campaigning. Gun rights are a polarizing issue in America, and can make or break politicians and legislation. Al Gore, for example, lost the
2000 election
in his own home state of Tennessee, primarily because of his pro gun-control stance. Even now, fear of reprisals from the NRA is holding up a bill from the Bureau on Alcohol, Tobacco, Firearms and Explosives that would stem gun-trafficking to Mexico, in the hopes of alleviating the
current drug war
.